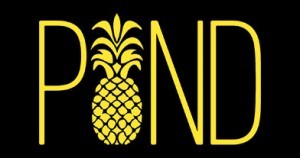 I remember it well. It was 2004. The family was sat around mum's kitchen table one Sunday after lunch and there was some music playing in the background.
Suddenly, my niece piped up "Why do you always listen to this old people's music? I'm off to practice my song for my Christmas concert." When she told us the song she was leaving the room to practice was 'Do they know it's Christmas?', none of us had the heart to tell her she was singing a cover of a 20-year old song.
Fast forward to 2015 and I'm sitting in POND Dalston, a restaurant that is aiming to become synonymous with Hawaiian cooking.
Suddenly, I'm reminded of that day in 2004 when comfort was found in something old and familiar that had been given a modern twist.
The dark evening really lends atmosphere to what was a warehouse. As you look closer at the bar and the fittings around the room, you notice that the vertical metal sheets around the bar and the wooden planks used to create the illusion of a sky scape are two very familiar materials given a funky treatment that brings them bang up to date.
And so it continues with the menu. There is a mixture of the familiar, the intriguing and the plain unknown.
I immediately zeroed in on the chicken with a habañero glaze with kimchi and pickled chillies, but then we decided to go with the choices that used ingredients we knew less well.
It turns out, I like spam. Or rather, I love spam, coated in a dust made of dried shrimp, deep fried and served with a yuzu mayonnaise. They are served like potato fries, in a cup. You pick and eat and chat and pick and dip and eat and, before you know it, they're gone.
NHC fried rice is perfect if you want a different take on an ingrained classic. You still take comfort from beautifully cooked rice and warming ginger, but there is texture from bean sprouts and seasoning from wakame (seaweed) to give you a dish that tastes light, bright and ever so moreish.
Alternating with my chopsticks between the NHC rice and a dish of wakame salad with a pungent dipping sauce of coriander, lime and fish sauce and I was happy as Larry. That dipping sauce was only supposed to serve as an accent to the salad but I could have had it by the bucket.
Not everything works perfectly, though. The whole charred avocado with ponzu rosemary dressing came stuffed with pickled mushrooms on quinoa with Japanese chillies and cashew nut cream. The idea of cooked avocado has never really appealed, so I was surprised at just how much I enjoyed it, especially with the mushroom and the dressing. However, everything else on the plate seemed to prevent the avocado from shining which it deserved to do.
There are a couple of poke dishes to choose from. Poke simply means cut or diced and is usually served as a salad. We chose the poke of salmon and tuna with flying fish roe over the beef. The point of a dish like this is to let the freshness of the fish show through and the restraint shown with the citrus dressing does exactly that.
There isn't anything restrained about the chef, Byron Knight. He delivers a confident menu, all while being fully hands-on in the kitchen and working the room to find out what people think of the food. His mile a minute pace is that of a man with a mission.
Byron sees POND as being at the forefront of Hawaiian cuisine and wants this venture to redefine that cuisine for Europeans. It definitely blows away any preconceptions of the more kitsch tiki movement that is most closely associated with Hawaii. Perhaps his greatest achievement is melding all the culinary influences on those islands (Japanese, Korean, French, Portuguese) and still managing to produce plates that are beautifully balanced and work well whether you are eating one plate or sharing several.
Oh, and I still ordered the chicken.
POND Dalston
Stamford Works
3 Gillett Street
Dalston
London
N16 8JH
Reservations: 020 3772 6727