Setting out to launch my first pop up was always going to be a daunting task.
There were so many questions running through my mind. What do I serve? Will people like my food? Most importantly, would people who enjoyed watching me on MasterChef pay to eat my food?
I decided to have my first outing serve as a bridge between the show and the present, giving guests something they were familiar with. Any future efforts would give me greater freedom to experiment.
I have had great feedback from so many people who all said that they really wanted to try the food they had seen me cooking on television so that is what I decided I would serve  Also, Little Water is not only a great burger restaurant, it is also known for its vodkas, so I paired each course with a different infused vodka.
The starter was beetroot, dill and vodka-cured salmon with pickled cucumber, horseradish mayonnaise and homemade rye crisp bread. This dish took me back to the beginning of the MasterChef process and beyond. I have been serving salmon three ways as a starter at dinner parties for a few years and the cured salmon formed part of my audition dish. I paired this with a garlic and dill vodka. The aroma is stong, but it goes well with the other strong flavours on the plate.
This salmon dish has become quite personal, so I was quite nervous looking at all the plates lined up, waiting to be taken out to diners. However, once a few plates had left the kitchen and the unmistakable sounds of laughter were bouncing back into the kitchen, I relaxed, knowing that people were enjoying themselves.
The main was based on the dish for which John Torode gave me 'dish of the day' in my heat. I served a chicken ballotine, stuffed with mushrooms and spinach and wrapped in Parma ham. This was served with a potato mille feuille, braised leeks and butter-roasted heritage carrots. This was paired with with tarragon vodka.
The vegetarian option was potato mille feuille, cauliflower purée, roasted cauliflower, roasted walnuts, samphire and a caper and sultana dressing. This was paired with a lemon vodka.
I stressed over this course.  I didn't want anyone choosing this option to feel that it was a lesser choice.  This dish went through about ten different versions before I settled on the one I served. By the time I published the menu,  I felt that I would be happy to choose this dish.
There was no such stress at all over what to choose for dessert.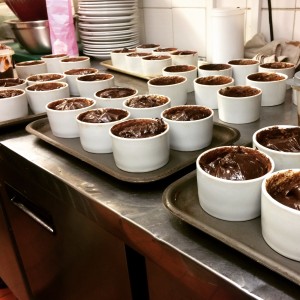 I cannot remember a time in over 15 years when I have had people over to eat and not been asked if I am making a chocolate fondant. Sometimes, I will even make a dessert that I think goes well with the rest of the menu and also prepare fondants so people can choose a dessert. Or have both. When I have guests, the most important things are that they are at ease and are well-fed.
Food service ran like clockwork. Working with Alex and Chris in the kitchen was so easy. I had done some prep ahead of time, but we motored through what was left and were ready in good time for 12:30.
It would not have been a success without all the people who were willing to make the leap from viewer to paying customer. I am particularly proud of my vegetarian dish which had neighbouring meat eaters envious. That, to me, is success.
Bring on the next pop up event!