Who wouldn't love self-catering in Venice?
I am loving this trip to Venice. Day by day, the temperature has been rising from 29C to around 33C. It is perfect weather for trips along the canals, frequent stops for an Aperol spritz and wandering around shaded markets.
I took a trip out to the Rialto Market in Venice to see what was on offer.
I like coming home and just cooking without a set plan, just whatever is in the fridge or cupboard, so that's what I decided to do here. Having decided to stay in an apartment and not a hotel, meant I had the freedom to cook or eat out. With such great produce, having a kitchen sitting unused seemed such a waste.
I took a quick look around as I stepped into the market to see what caught my eye. I was instantly drawn to white figs. I'm familiar with black figs but white ones were new to me. Almost next to them were beautiful peaches. Within about 30 seconds, I had a dish in my head.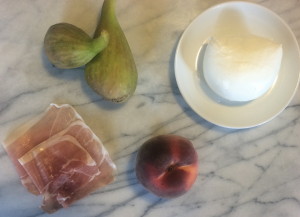 I wanted to make some small plates with whatever produce I found. Cicchetti are small plates, typical in Venice. It can be something on crostini or it can be as simple as a cooked vegetable, such as sliced carrots, or something more elaborate like an octopus salad.
What I ended up with was almost exactly what I set out to put on a plate: a white fig and grilled peach salad with buffalo mozzarella, prosciutto di San Daniele and basil. With a chilled glass of Prosecco, this was just about the perfect lunch, especially in this weather.